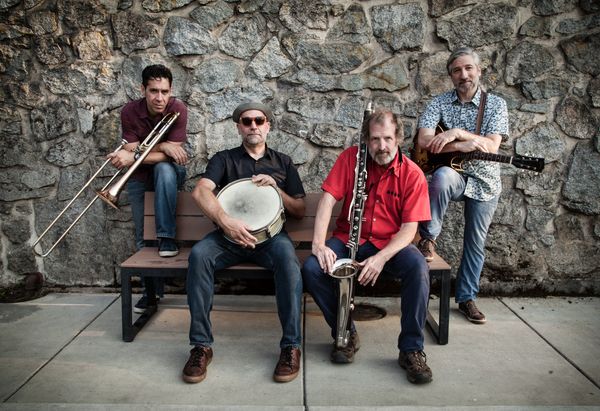 "Innovative compositions, unusual instrumentation, impeccable musicianship and interplay between the four performers – all this adds up to make Flounder one of the most interesting and enjoyable jazz bands you'll ever hear." 
- Bruce Grelle, "Evening Jazz" North State Public Radio 
"Regardless of mood swings and atmospheric shifts, this California quartet, led by accomplished composer and guitarist David Dvorin, continuously transmits a sense of the pleasure of music-making." 
- Duane Verh, Jazz and Blues Report 
"David Dvorin creates pure musical alchemy with his band Flounder, combining inspired writing with unique instrumental voicing and brilliant musicianship." 
- Steve Scarborough, "It's Just Jazz",  KZFR
Combining the freewheeling groove and grit of mid-century blues and jazz with the intimacy and instrumental interplay of chamber music, Flounder was originally formed in 2018 to perform a concert of original works by composer David Dvorin at California State University, Chico, where Dvorin is a Professor of Music. The collaboration proved so successful that the four musicians decided to keep the project going, performing and recording Dvorin's original compositions and unique arrangements that emphasize rhythmic feel along with the more adventurous exploration of harmony and texture.
Consisting of Dvorin on electric guitar and modular synthesizer, Randy McKean on bass clarinet and tenor saxophone, Clifford Childers on bass trumpet, trombone, harmonica and euphonium, and Tim Bulkley on drums, the quartet combines the retro and the futuristic with traditional acoustic and electric instruments sharing sonic space with the percolating electronic sounds of the modular synthesizer. Sounding like a much bigger band due to the players' doubling on multiple instruments, the quartet exhibits the swing, swagger, and drive of the best Space-Age Jazz, but distinguishes themselves from your average combo by allowing the low end to be occupied by any member of the group.
Combining tight arrangements with creative improvisation, Flounder thrives in a live setting, performing regionally throughout Northern California, including concerts at universities and music schools such as the California Jazz Conservatory's "Way Out West" series. Their debut release, I'm The Flounder, was released on Cure-All Records in Fall of 2021.
Flounder returns to the historical Torch Club to play two sets of original foot stomping blues/jazz/chamber music! $10 Ages 21+